Charles Fain Proved Innocent of Murder, and Released After Almost 18 Years On Idaho's Death Row
By Hans Sherrer
For Justice:Denied magazine

In November 1983 Charles Fain was convicted of kidnapping, assaulting and murdering 9-year old Daralyn Johnson. On Death Row since February 1984, he was released from prison in August 2001after DNA tests exonerated him as her assailant.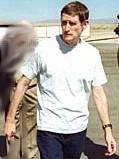 Charles Fain released after spending 18 years on Idaho's Death Row.

After being wrongly imprisoned for almost 19 years, all but the first year of which he spent on Idaho's Death Row, 52-year old Charles Fain was ordered released from prison on August 23, 2001 by Idaho Third District Judge Sergio Gutierrez. Mr. Fain's release followed U.S. District Judge B. Lynn Winmill's order on July 6, 2001 setting aside his November 1983 conviction of kidnapping, sexually assaulting and murdering 9-year old Daralyn Johnson of Nampa, and his February 17, 1984 death sentence. His exoneration and release resulted from state of the art DNA tests of her assailant's pubic hair found on her socks and underwear. The tests proved he wasn't the person who attacked and killed her.
A white Nampa sanitation worker who lived several blocks from Daralyn's home until he was laid off in June 1981, Charles Fain maintained his innocence from the time of his arrest on March 7, 1983 through his nearly two decades on Death Row. After his arrest he voluntarily took and passed a polygraph test that he had nothing to do with the crime. His claim of innocence and the test results were corroborated by several witnesses who testified at his trial that he was in Redmond, Oregon, 360 miles from Nampa, at the time of Daralyn's abduction and murder. His parents lived in Redmond and he moved in with them after losing his job in Nampa. He moved back to Nampa in mid-March 1982, three weeks after Daralyn was abducted on February 24, 1982 while she walked to school.
The DNA tests of the physical evidence proved that from the beginning of his ordeal, Charles Fain and his alibi witnesses had been telling the truth to disbelieving police, prosecutors, jurors and judges. Daralyn Johnson's family was supportive of Mr. Fain's release, saying in a prepared statement: "We are in complete support of our judicial system and all those involved in the reinvestigation of this case."
It's difficult if not impossible, however, for Charles Fain to have any faith in the investigative abilities of law enforcement authorities to solve Daralyn Johnson's murder. An FBI specialist testified at Mr. Fain's trial that the pubic hair found on her clothes was microscopically similar to his, and a jailhouse snitch facing 230 years in prison for fraud, escape, armed robbery and kidnapping testified he overheard Mr. Fain tell another inmate he was guilty. The inmate, Ricky Chilton, had some charges dropped and others significantly reduced after testifying against Charles Fain, and he was released from prison after only three years. Mr. Chilton, however, had pangs of conscience after Charles Fain's trial, and at one point "Chilton filed a formal statement asserting that the prosecutors office "had conspired to force him into testifying" and that the prosecutor's office made death threats against him." The prosecutors put the full court press on Ricky Chilton to give favorable testimony for them, because they knew that without his suspect testimony their shaky case against Mr. Fain would fall apart.
In 1989 the Idaho Supreme Court upheld Charles Fain's conviction by a 3 to 2 vote. In his dissent, Justice Stephen Bristline castigated the Court for endorsing Ricky Chilton's repudiated testimony that at a minimum was untrustworthy.
After living for years in a small cell while waiting day after day, year after year to be executed for a heinous crime he didn't commit, Charles Fain seemed to be in a near state of shock after his release: "I found myself wanting to walk five steps and then go back five steps again. Our cells have room enough to go five steps forward, five steps back and three to the side." He also mentioned that: "Everything was a certain way. Now its completely different. I'm suddenly able to make decisions for myself. But I'll get back into the swing of things."
Charles Fain owes his second chance at life to his lawyer's ability to stave off his execution for the 18 years it took for his innocence to be proved. As his lawyer Frederick Hoopes of Idaho Falls diplomatically noted: "Fortunately, we were able to keep him alive until technology caught up with the evidence." Charles Fain's other lawyer, Spencer C. McIntyre of Seattle was more blunt: "Mr. Fain is completely innocent. This has been a gross injustice."
Given the outcome of his case, it can't be glossed over that if his prosecutors and the state judges involved in his case had been successful in their desire to execute him, the truth of Charles Fain's innocence would have been buried with him. That outcome would have accomplished the tidy closing of Daralyn Johnson's case file. However, it is doubtful she would have wanted the blood of an innocent man's execution to cover-up that the last person she saw, her murderer, had gotten away without anyone but Charles Fain, his witnesses, and her knowing it.
Sources:
Wrongfully convicted man holds no grudges, Chuck Oxley (AP), The Spokesman-Review, Spokane, WA, August 25, 2001, B2.
Condemned man could go free after DNA testing, Henry Weinstein (Legal Affairs Writer), Los Angeles Times, August 19, 2001, Home Ed., A1.