Twice Wrongly Convicted of Murder - Ray Krone Is Set Free After 10 Years
By Hans Sherrer
Justice Denied Magazine, Vol. 2, Issue 9
Ray Krone was walking a free man in the bright Arizona sun on the afternoon of Monday, April 8th. That was remarkable because that morning, as every morning for the previous 10-1/2 years, he'd awakened in a prison cell after being convicted twice of 36-year-old Kim Ancona's brutal December 1991 murder in a Phoenix lounge.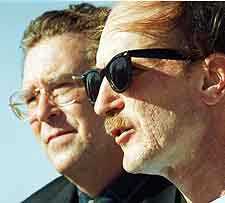 Ray with his lawyer immediately after his release from prison
Ray's conviction in 1992 was primarily based on "expert" testimony that his teeth matched bite marks on Ms. Ancona's breast and throat. After spending four years on Arizona's death row, Ray's conviction was thrown out by the Arizona Supreme Court. The reversal of his conviction was based on the prosecution's concealment from Ray's lawyers of a videotape about the bite mark evidence until just before the trial began. The Court did not rule on the issue in Ray's appeal that the prosecution had also concealed exculpatory test results of a prosecution forensic odontologist that concluded Ray's bite mark wasn't consistent with those found on Ms. Ancona.
Although DNA tests introduced at his second trial proved that blood found on Ms. Ancona didn't belong to either her or Ray, he was again convicted on the basis of "expert" testimony linking his teeth to the bite marks on Ms. Ancona. The prosecution had no other physical "evidence" that it claimed linked Ray to Kim's murder.
After his second conviction in 1996, Ray told The Arizona Republic he was innocent. "I was not there that night. "[This] pretty much rules out any faith I have in truth and justice." The trial judge, Maricopa County Superior Court Judge James McDougall, expressed doubt about the outcome of the trial when he wrote, "The court is left with a residual or lingering doubt about the clear identity of the killer." Judge McDougall also wrote after sentencing Ray to life in prison, "This is one of those cases that will haunt me for the rest of my life, wondering whether I have done the right thing."
Ray Krone, an Air Force veteran with no criminal record, was a postal worker and regularly played darts at the CBS Lounge in Phoenix where Kim Ancona worked. They casually knew each other, and Ray had even given Kim a ride to a Christmas party in his prized 1970 Corvette a week before her brutal murder. Ray's roommate corroborated Ray's statement to the police that he went to bed at 10 p.m. on the night of her murder.
Proclaiming his innocence since the time he first came under suspicion, the April 4th DNA test results of saliva and blood found on Ms. Ancona's clothes and body proved Ray Krone had been telling the truth. Not only did the tests exclude Ray, but they also implicated a man, Kenneth Phillips, currently imprisoned in Arizona for sexually assaulting and choking a 7-year-old girl. At the time of Kim Ancona's murder Kenneth Phillips lived 600 yards from the CBS Lounge and was on probation for breaking into a neighboring woman's apartment and choking her while threatening to kill her. Twenty days after Ms. Ancona's murder Mr. Phillips was accused of assaulting the 7-year-old.
After the DNA test results were obtained on April 4th, Ray's lawyer, Alan Simpson, said: "This proves with certainty that Ray Krone is an innocent man. Every day from this point forward that Ray spends in jail is a day the county acts at their own peril." Four days later Ray was a free man.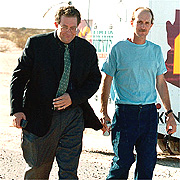 Ray Krone, right, leaves prison with lawyer Christopher Plourd. (photo by Charles Whitehouse, AP)
Maricopa County Attorney Rick Romley defended his prosecution of Ray Krone by saying there was "strong circumstantial evidence" of his guilt. In response to the conclusive proof that an innocent Ray Krone spent 10-1/2 years in prison, four of which was spent on Arizona's death row, Prosecutor Romley said, "we will try to do better." He neglected to mention that the prosecution's concealment of the odontologist's report that cast doubt on Ray's guilt prior to his first trial indicates they may have knowingly prosecuted an innocent man.
The prosecution's primary witness, Nevada forensic dentist Dr. Raymond Rawson defended his testimony. In an April 8, 2002 article The Arizona Republic quoted Dr. Rawson as saying, "The bite marks were just one piece of evidence with whatever else the jury considered, that is what convicted him." The callousness of Dr. Rawson towards the horrific wrong he was instrumental in inflicting on Ray Krone is indicated by the fact that the jury in both of Ray Krone's trials stated their guilty verdict was based on the bite mark testimony, not on "whatever else the jury considered."
Dr. Rawson's defense of helping to put an innocent Ray Krone on Arizona's death row is all the more feeble when viewed from the latest research about the unreliability of bite mark analysis. The coauthor of a book on forensic evidence, Arizona State University Law School Professor Michael J. Saks describes bite mark testimony as "classic junk science." The Los Angeles Times reported on April 10, 2002 that 63.5% of bite mark investigations resulted in "false positives" and another 22% resulted in "false negatives," according to a study by the American Board of Forensic Odontologists. Put another way, bite mark testimony may be no more likely to accurately identify the perpetrator of a crime than if the prosecution enlisted an astrologer to link a suspect to a victim by working out their respective astrological charts and plotting a convergence point at the time of the crime. Yet, the prosecution's reliance on "junk" bite mark evidence, and the jury's false belief it was scientific, put Ray Krone on track to have a one way trip to Arizona's death chamber. Professor Saks was quoted in the LA Times' article as saying, "At an absolute minimum, jurors should be informed of the relative accuracy or inaccuracy of these tests so they don't think there is more to them than there is."
Although Ray was twice convicted of the brutal stabbing murder of an attractive woman, his family's unwavering belief in his innocence led them to spend over $300,000 fighting for his exoneration and freedom. A key person was Jim Rix, a cousin Ray had not met before his conviction. After visiting Ray in prison, Mr. Rix, a Lake Tahoe businessman, organized the efforts that culminated in Ray's release. As Ray said the day of his release, "Justice has finally come." He got strength from knowing he was innocent, and "there was the strength I got from my friends and family. They never doubted I was innocent. They did everything they could to help me not get down."
Standing outside the prison in Yuma from which he had just been released, Ray said in an interview with Phoenix's KPNX-TV, "For 10 years I felt less than human. This is certainly a strange feeling, and I think it'll take a while for it to set in." Kim Ancona's mother was quoted in The Arizona Republic as saying after learning of the DNA test results, "My God, I hope he becomes a millionaire, because I can't give him those 10-1/2 years back."
According to the Death Penalty Information Center, Ray Krone is the 100th innocent man in the past 29 years released from prison after spending time on death row waiting to be led to a State's death chamber. Before his prosecution, Ray believed in the death penalty because he thought it was reserved for vicious criminals and mass murders. He knows better now. The Arizona Republic on April 9th quoted him as saying, "They would have executed me. Could I have any faith in it anymore? Absolutely not. I can't be the only one. ... People need to address this issue."
The New York Times echoed those sentiments in an April 10th editorial about Ray Krone's exoneration titled Death is Different. That editorial read in part:
" Given the way death-penalty crimes are prosecuted, as the wrongful-conviction scandals in Illinois a few years back showed, a certain number of mistaken convictions are essentially built into the process." A sad reality of the criminal justice system is that in all too many cases, defendants are convicted of serious crimes on the flimsiest of evidence. Juries often hang guilty verdicts on the word of a single witness, despite numerous academic studies showing that witnesses are frequently unreliable.
Courts admit evidence of dubious quality at trial, and send defendants to prison -- or to death -- on the basis of it. The case against Mr. Krone was largely circumstantial, including expert but apparently inaccurate, testimony that his teeth matched bite marks on the victim.
In the face of this powerful evidence that the system is broken, the courts should be chastened -- and they should be working hard to build in protections against executing the wrongfully convicted. Sadly, however, the Supreme Court appeared unconcerned about the fairness of the death penalty in its ruling in a case two weeks ago involving effective assistance of counsel."
In the case referred to in the Times' editorial, Mickens v. Taylor, Warden, No. 009285 (March 27, 2002), the Supreme Court ruled that it was not fundamentally violative of due process for an accused murderer to be appointed a lawyer that unbeknownst to him was the victim's lawyer at the time he was killed, which was the business day preceding his appointment as the defendant's attorney. In other words, one day the attorney represented the victim and the next business day he was appointed to represent his client's accused killer: all the while concealing that fact from his "new" client who was convicted and sentenced to death for killing the lawyer's previous client. In his dissent, Justice John Paul Stevens noted: "A rule that allows the State to foist a murder victim's lawyer onto his accused is not only capricious; it poisons the integrity of our adversary system of justice." Justice Breyer, with whom Justice Ginsburg joined in dissenting, was more direct in assessing the meaning of the Court's action: "This kind of breakdown in the criminal justice system creates, at a minimum, the appearance that the proceeding will not reliably serve its function as a vehicle for determination of guilt or innocence, and the resulting criminal punishment will not be regarded as fundamentally fair."
Every Court in the country takes its cues from the attitudes expressed by the Supreme Court, and as the New York Times noted in its editorial, the highest court in the land is no longer concerned with whether it even appears a defendant is accorded a fair trial. In the absence of a court acting in a manner that creates the appearance a defendant received a fair trial, it is unlikely he or she received one. That lack of concern by the nation's courts with a defendant's possible innocence nearly condemned Ray Krone to a life in hell, even though he is as innocent of Kim Ancona's murder as you, or any other readers of this report, are. That emphasizes the most troubling aspect of Ray's case and the lesson it has for us to again be reminded of: There are a disturbing number of "Ray Krones," reliably estimated to number over a hundred thousand people, who have been left to twist in the wind by the Courts of this country to serve a prison sentence for a crime the person didn't commit.
It is heartening that Ray Krone had a happy ending to his gruesome 10-1/2 year saga. Now 45, he has the opportunity to begin life anew on the outside. Without restraint he can drive his Corvette and spend time with the people who cared enough to support him while he was imprisoned.
On the other hand, it is sobering to realize that Ray was blessed in two crucial ways: he had caring relatives with the money to hire a competent lawyer to fight for his freedom; and DNA tests capable of excluding him as Kim Ancona's murderer were developed after his conviction. Otherwise, he would have spent the rest of his natural life imprisoned in the nightmarish hell of Arizona's prison system due to the inability of this country's judicial process to reliably distinguish the guilty from the innocent.
Sources: "DNA good new for convict: Convicted twice in slaying," Beth DeFalco (staff writer), The Arizona Republic, March 23, 2002.
"DNA may free Arizonan: Inmate convicted twice in murder," Beth DeFalco (staff writer), The Arizona Republic, April 5, 2002.
"Doubts plagued trial in '91 killing," Beth DeFalco (staff writer), The Arizona Republic, April 8, 2002.
"DNA frees Arizona inmate after 10 years in prison: 10 years included time on death row," Dennis Wagner, Beth DeFalco, and Patricia Biggs, The Arizona Republic, April 9, 2002.
"DNA Leads to Release of Ariz. Convict," Foster Klug (AP), Seattle Post-Intelligencer, April 8, 2002.
"Death Penalty Foes Mark a Milestone: Crime: Arizona convict freed on DNA tests is said to be the 100th known condemned U.S. prisoner to be exonerated since executions resumed," Henry Weinstein (staff writer), Los Angeles Times, April 10, 2002.
"Death is Different," Editorial Staff, The New York Times, April 10, 2002.